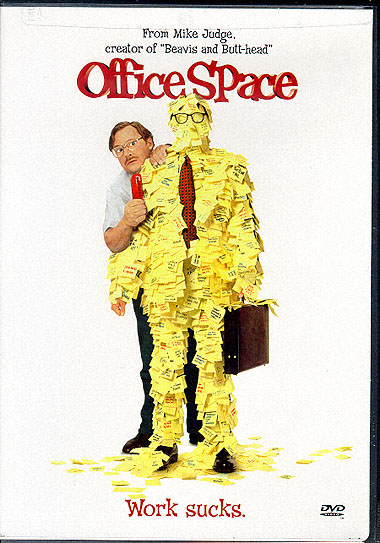 Have you seen this one? Although I have not viewed the movie personally, I know so many details about its contents that I've started to think it's like the
P.U.H.D.
of the workplace movie circuit. If you have been so blessed to see seen this flick, then you know that the head of my today ("...case of the Mondays") is one of many classic, uber-identifiable lines from the movie, much like "B*tch betta ho up or blow up," "Let me pimp or let me die," (Pat Henry just turned over for the one thousandth time) and "Ho's get broke for reckless eyeballing."
I know what you're thinking while shaking your head in disgust... it's been too damn long since I last saw that Oscar-worthy classic, too! I need to check out Amazon and see if I can get a copy on DVD.
Anyho - oops! - any
hoo
...back to today's topic: sad, pathetic Mondays. So, I started off the day unable to locate my house keys - for 16 minutes! Now, if you're the type of person who gets ready for work while watching TV and sipping English Breakfast, then I'm sure this would not have been a problem for you. However, that chick ain't moi. I grew up watching my mother zip and dash throughout the house EVERY SINGLE day, while trying to ready for work on time. And I am sure I can count on one hand how many times she actually made it there
on time
. So, needless to say, I have a few issues allotting extra time in the morning.
Adding to the late problem is that even if I get out of the bed an hour earlier than usual, I always figure out a way to dwindle down my "extra" time, thereby, necessitating a need for the
rush
. I think it's official: I'm addicting to running on the clock...kind of like I'm addicting to dining out and splurge shopping (a couple of other addictions that I can trace back to childhood/blame on my mom:)
Well, back to the topic at hand again...so I made it to work and THANK GOD my boss called out today. So, while my Monday has been blue thus far, at least I didn't have to face my boss with a bullsh*t-sounding-but-true excuse as to why I arrived at 820 for a job that is supposed to start at 8a.
Hope your Monday morning has at least been swell...
R.