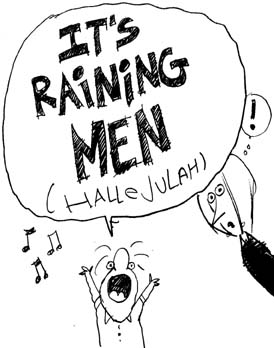 easier/better/less-stressful to work with than women.
Exhibit A
: Cocoa's morning's IM convo with another colleague...
Cocoa Girl: oh my goodness...it's return of the navy blue skirt!!!! do you remember it...the one that was ALWAYS worn inappropriately!
Cocoa Girl: ...with black pumps; with white pumps; with a white dress shirt and cream pumps!
Cocoa Girl: Today it is paired with a cream-colored shirt, light gray (perhaps were once cream-colored) suede pumps and a black brocade jacket...
Coworker: sigh
Coworker: oh dear
Coworker: the fashion karma on that desk is not good. in related news, I saw the hippo this AM on my way in the bldg, said hi and then walked as quickly as I could, away...
Coworker: ...away
Coworker: ...away
Cocoa Girl: hahaha...she is such a moo-moo
Cocoa Girl: meaning cow
Cocoa Girl: and!
Cocoa Girl: what she probably should be wearing to accommodate that front end! LOL
Cocoa Girl: ok, i am going to be nice now, or, at least, I will cease being mean. but she is sooooo mean. yuck!
Coworker: sooooo mean
Coworker: as a friend would say, a biznatch
Cocoa Girl: hahaha... i can't understand why she is so bitter. she has a relatively nice looking husband; grew up with tons of money; has two ivy degrees; makes pretty good money, and has a lot of friends. so, what's there to be so d$mn mean about?
Cocoa Girl: oh, that's right! because she ain't cute!
Cocoa Girl: oops, I said i would stop
Cocoa Girl: ok, I am stopping again...lol
Yes, Cocoa is guilty as charged!

Now, don't get me wrong: I have always been a woman's woman, a girly-girl a heart who trade in her glam card for nada. Long story short, I have always LOVED being a woman, which probably is due to the sheer force of females in my family. With every new generation, us sistahs always manage to outnumber the brothas, big time. So, I kind of grew up accustomed to spending every waking moment, day and many hours with poor yet self-professed divas, love-torn psychotics, whores of the attention-seeking and fashionista variety, and insane drama queens fit to lead any top-rated soap "bopper."
So, what's the source of all my beef with the
fishees
(alter-gay-male persona's disdainful term for chicks) on the job?? There is something inside of us -probably not much unlike that thingy used by animals to sense hostilities in their co-animals - that can turn the most-minute work issue into a f*cking Officegate! Women on the job also have a tendency to take issues of the business matter more personally than men, which can account for tons of unnecessary stress and cattiness on the job. As if my black, struggling artist living in Manhattan arse needs to deal with any more of that in any area of my life...
So, what? Am I generalizing? Am I being unfair, or am I
dead-on
?
Cocoa wants to know:
what's your workplace sexual preference
?
CG./R.